Making VR Movies You'd Actually Want to Watch
Reposting via MIT Technology Review:
The key to making a compelling virtual-reality movie: forget about storytelling and focus on creating immersive worlds. So says Google's VR filmmaker, Jessica Brillhart, who has quickly become a leader in the emerging field of cinematic VR content.
Brillhart, who spoke Wednesday at EmTech MIT 2016 in Cambridge, Massachusetts, describes her job as helping people create high-quality VR content—specifically, short 360° videos that consumers can watch online, using their smartphones and lightweight VR headsets. It's an area of intense interest to Google, which began supporting 360° videos on YouTube last year and recently launched a mobile VR platform called Daydream, along with a compatible headset and smartphone.
To get people to buy its VR gadgets and tune in to YouTube, Google needs engaging content. Brillhart is helping by making VR films for YouTube and writing and talking about what she's learned from experimenting with this new medium for the past year and a half. "There's nothing definitive that people can use as a guide [for VR filmmaking]," she says. "So I'm being proactive about figuring stuff out and putting it out in the world for discussion."
One of Brillhart's major findings is that conventional storytelling doesn't suit VR film. A 360° VR movie is actually a range of potential stories rather than a single story, she explains, because it can be viewed from many different angles. Filmmakers who ignore this fundamental aspect of VR film will annoy their audiences and fail to leverage the technology's unique features, she contends.
When Brillhart makes a VR film, she focuses on capturing a series of dynamic 360° shots or "worlds," rather than a sequence of static film frames. When she edits the movies, she imagines how viewers (whom she calls "visitors") will engage with each of the worlds. Then she figures out how to pull visitors through the shots in a way that seems coherent even though it's not strictly linear.
Brillhart devised the technique while she was editing her first VR film,World Tour, last year. She started off doing a conventional frame-to-frame edit, but as soon as she viewed a rough cut through a VR headset, she realized it didn't work. In frustration, she looked up at the ceiling one night, spotted a round lightbulb, and started sketching circles. Below is what her edit for that film looks like, in diagram form. The circles represent the different worlds in the film, while the black and white dots show where a visitor is most likely to enter and exit each world.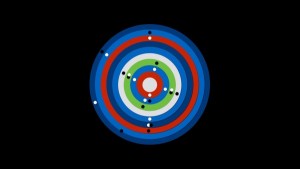 It's a technique more familiar in video games than film. "Game designers understand that they're creating an experiential hub for potential stories and not a direct one-to-one story," Brillhart says. "They come up with a general idea and provide players with the means to discover the story on their own." VR filmmakers can learn from them, and from architects, who similarly "build spaces that have conversations with people," she says.
← Back
Next →