VR Growth
Never mind that consumers are actually starting to buy into all the virtual reality hype. An industry isn't an official industry until it has its own acronym-ready association.
Enter the Global Virtual Reality Association, or GVRA, which arrived officially on Wednesday. It's made up for now of six competing headset manufacturers — Acer Starbreeze, Google, HTC Vive, Facebook's Oculus, Samsung and Sony Interactive Entertainment — promising to develop and share best practices for the new industry. It also pledges to foster dialogue between public and private stakeholders around the globe.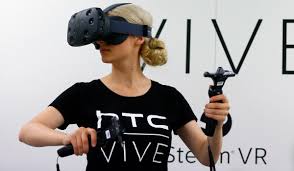 Virtual reality is an immersive technology that uses headsets to put a viewer in the middle of the action. Tech giants have been pouring investment into VR, making it one of the buzziest technologies this year. But there's fragmentation in the pioneering community, and its members and consumers alike are looking for more collaboration and unification of standards, something the association can tackle.
"We're still very much in the early stages of VR, so it's critical that industry leaders work together to create and share ideas on how we can safely build this industry," said Oculus General Counsel Jordan McCollum, in a statement.
Via: C Net
← Back
Next →